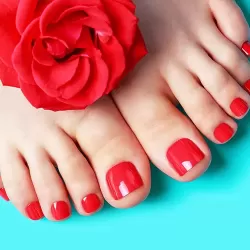 You know that feeling when you get your nails done and they look so pretty? Well, getting a pedicure is just like that but for the entire body. You'll feel cleaner with all this extra attention lavished on baby-soft feet; not to mention how much easier walking becomes since our weight bears less pressure thanks to those moisturizing properties and having the hard calluses removed!
Queen Nails & Spa is a relaxing and wonderful environment to get a pedicure from an expert nail technician that will cater to your every need and be sensitive to the right pressure you require for treatment. Removal of ingrown toenails can be a relieving experience in the right caring professional hands. Pairing that with exfoliating scrubs and massage with lotions for your feet and lower legs can bring the pedicure spa experience to new levels of relaxation.
The Steps of a Queen Nails & Spa Pedicure
Queen Nails & Spa is not an average nail spa because of our upscale services and professional nail artisans. Trained nail technicians are careful to follow each step to provide you with the best results possible for your spa pedicure experience. 
If this will be your first pedicure experience, we strongly encourage you to read our Frequently Asked Questions about Pedicures before beginning your normal hygiene routine for the day and refrain from shaving your legs as well as other important items to be aware of.
There are additional services performed in our upgraded pedicure experiences - Special, Deluxe, and Exclusive - but these are the key ingredients to your experience at Queen Nails & Spa:
Your nails will be trimmed to and filed into the desired shape.


The nail cuticles will be gently pushed up and removed.


A nail buffer will be used to smoothen the ridges and rough edges of the nail surface.


Nail experts will then use a foot file to scrub the bottom of your feet to remove dead skin and calluses. 


Your lower legs and feet will be massaged with a special salt or sugar scrub depending on your skin's needs to help clean and remove dead skin.


Your feet and lower legs are then massaged well with moisturizer selected for your skin to improve circulation and stimulate blood flow that will help your feet become smoother, softer, and healthier.


Hot, clean towels are wrapped around your feet and legs to stimulate the oils and moisturizers and allow them to penetrate deeper into your skin for the ultimate moisturizing treatment.


Your feet are painted with high-quality nail polish or gel polish, depending on the option you selected. With a gel polish pedicure, your polish could last up to 3 weeks without chipping. Queen Nails & Spa has thousands of color options to choose from and utilizes premium polish brands to include Orly and DND.


You are moved to dry your perfect polish under our LED Gel Light System and relax for a short period of time before being ready to go back into the world feeling great with your gorgeous new pedicure!