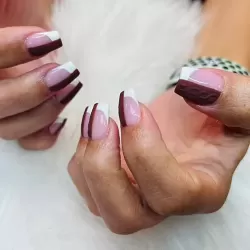 Queen Nails & Spa is the best place to get your nails done! We offer professional manicures and pedicures that will leave you feeling refreshed. Our technicians are highly trained in the latest techniques, so you can be sure that your nails will look great when they're finished. Plus, we have an amazing selection of colors and designs available for both fingernails and toenails. You won't find another place like ours anywhere else in town!
Queen Nails & Spa offers a full set of acrylic nails with regular or gel nail polish. Our tech will work on your cuticles and file your natural nails short before applying the new set of nails. A manicure is done first on your natural nails and normally includes removing any existing nail polish, cleaning and conditioning your cuticles, filing and shaping your nails, applying moisturizing lotions to your hands, and a hand/forearm massage.
By enhancing nails with acrylic, gel, wraps, overlays, etc., your nails will be protected and look beautiful without the hassle of chipped polish ruining a new manicure. At Queen Nails & Spa we strive to create a soothing and restful space for our clients while we help them maintain healthy nails.
Gel Manicures
Gel Polish is the perfect way to paint your nails. It's quick, shiny, and glossy. You won't have to worry about it chipping or smudging for at least two weeks! Plus, we offer gel polish manicures that are quick and easy! No need to sit in the salon all day long. We can do everything from start to finish in less than an hour!  And if you want something different on top of your gel polish, we also offer nail art too!
Liquid Gel Nail Extensions 
Liquid Gel Extensions are the best way to get your dream nails. They're thin and flexible so they don't damage your natural nail like acrylics do. Plus, they look incredibly realistic! You can even go swimming or wash dishes without worrying about them falling off. And with our special gel formula, you won't have to worry about smudges or chipping either. The possibilities for these extensions are endless!
Dip Nails Manicure & Extensions
Do you want to have the perfect manicure that will last for weeks? Dip powder is a new type of nail polish that doesn't require any UV light and lasts even longer than traditional gels. It's also free from harsh chemicals, so it's actually good for your nails! The process includes dipping your nails into colored or clear powder which makes them look amazing and shiny. You'll never go back to regular nail polish again!