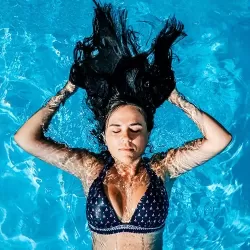 If you want smooth skin without the worry of pesky nose hairs, get facial waxing today. Our fast and efficient process will remove those unwanted hairs from every area on your face so that they don't come back again! We use only top quality products for a gentle touch which leaves no residue or burning sensation when applied. Our friendly and knowledgeable staff at Queen Nails & Spa will address your body hair removal needs with the efficiency you expect and the personal concern you need.
Our desire is to provide professional, all-inclusive body waxing & facial hair removal services at affordable prices. Queen Nails & Spa staff are focused on bestowing the utmost hygienic experience, convenience and comfort. All our technicians are experts, full body, bikini and facial hair removal specialists. Licensed in Texas & trained in-house.
How Is Facial Waxing Performed?
The wax is applied over the area with unwanted hair and allowed to cool. The wax is then removed with a quick, single motion. You may feel a slight stinging for a few seconds after the wax is removed. The wax also provides a level of exfoliation so the skin feels soft.
What Should I Expect After Facial Waxing?
Facial waxing is a temporary solution to hair growth. While the hair will grow back, it will grow back at a slower pace compared to shaving. You will not have any stubble in the days after your facial waxing. We recommend regular follow-up treatments to maintain your results.
Brazilian Body Waxing
Queen Nails & Spa has brought exceptional Brazilian Bikini & Body Waxing services to North East Texas. You will receive an authentic Brazilian experience at Queen Nails & Spa in Queen City, Texas. Our technicians are constantly exploring the beauty & cosmetic industry by looking for innovative depilatory techniques and the best skin care products for our clients.
Bikini waxing might probably be intimidating for some. Our authentic green hard wax & "Brazilian Waxing" techniques allows us to depilate many areas of the body simultaneously, resulting in hair removal that is nearly painless and truly effective as a result! As experienced skin care professionals at Queen Nails & Spa we ensure superb long lasting end results - male or female alike will leave our salon feeling sexy, soft , smooth & sleek with their desired look achieved easily thanks to this tried-and-true method perfected over time through trial by fire.
When you choose Queen Nails & Spa, not only will we pamper you with the latest in luxurious waxing techniques but also offer an aesthetically pleasing environment that is relaxing for all. Our friendly staff consistently strives towards excellence so each visit leaves clients feeling rejuvenated from head-to-toe!